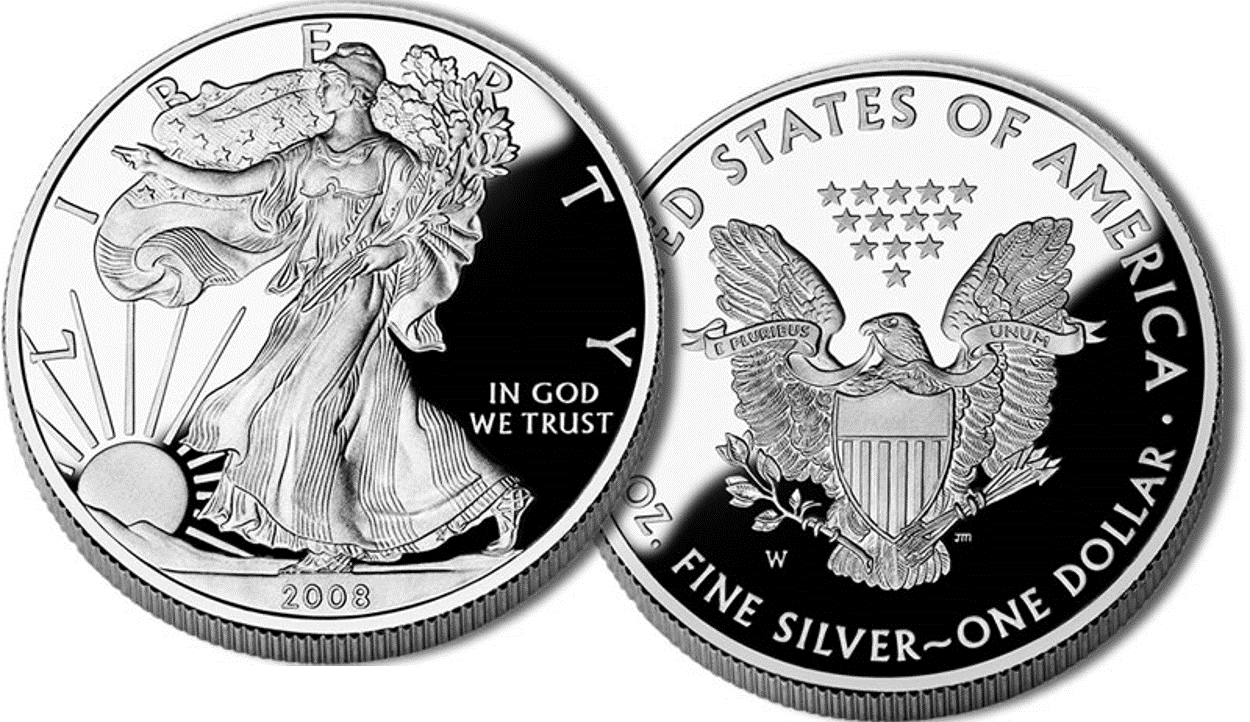 One of the most popular types of precious metals that investors purchase is silver, and this is because it has an affordable asking price per ounce and a historically increasing trend in value. Furthermore, it has been viewed by experts as being a wonderful hedge against inflation that can protect the value of your portfolio during rough economic times.
Some collectors purchase silver coins as well, and there are dozens of different types of coins you may add to your collection. While there are many ways to invest in or to collect silver, many prefer to buy Silver Eagles. Silver Eagles are the official silver bullion coin of the United States Mint. By learning more about Silver Eagles and exploring the best place to buy Silver Eagles, you will be well on your way to profiting from your new silver purchase.
The History of Silver Eagles
Before you consider where and how to purchase Silver Eagle coins, you may want to know more about it's history. The first Silver Eagle coins were produced from Mint in November 1986, and production has continued almost non-stop since then. The number of coins produced per year, however, has varied. In addition, there have been some coins produced specifically for collectors that were never circulated in the general public. There were also some special issues of this coin. For example, the Philadelphia Set was issued in 1993, and the United States Millennium Coinage and Currency Set was issued in 2000. The Silver Eagle is certified as being 99.9 percent pure silver and as weighing one troy ounce.
What You Need to Know Before You Buy Silver Eagle Coins
Many investors and collectors want to buy Silver Eagles at spot, and buying at spot price is similar to buying wholesale coins. This is considered to be the best way to purchase cheap silver, and this is because spot price does not have a premium tagged onto it. However, it can be challenging to find silver available at spot, and this is particularly true with Silver Eagle coins. Keep in mind that many older coins, collectors' edition coins that have not been circulated, and other types of Silver Eagles may have a premium associated with them because of their rarity. However, newer coins as well as those that have been heavily circulated or that show signs of wear may be much more affordable to purchase.
Where to Buy Your Silver Eagle Coins
If you want to know the best place to make your purchase from, you are not alone. If you are interested in purchasing current year coins, you can easily make a purchase from banks. Most banks have the current year in stock and ready for immediate purchase. Another way to make a purchase is online from reputable dealers. The U.S. Mint publishes a list of legitimate dealers, and many of these offer you a simple online shopping experience. Shopping for coins over the Internet makes it easier for you to research the actual value of different coins, and this means that you can easily identify the cheapest place to purchase Silver Eagle coins from different years.
Some coin collectors also sell Silver Eagles, and you may be able to gain access to these collectors over the Internet as well. For example, there are third party websites that act as a selling or trading platform for collectors and investors to use. This is typically a great place to find older and rare coins that may have greater value.
Silver Eagle coins continue to be minted today, so it may be relatively easy for you to find a current year coin through a bank or dealer. Many will purchase an entire tube or roll of coins, however, you can purchase one at a time if you are taking a more conservative approach. Keep in mind that this is only one out of many ways to invest in silver bullion, and you can also purchase silver bars or wafers. You may also invest in a silver mining company if buying physical silver is not ideal for your investment needs.