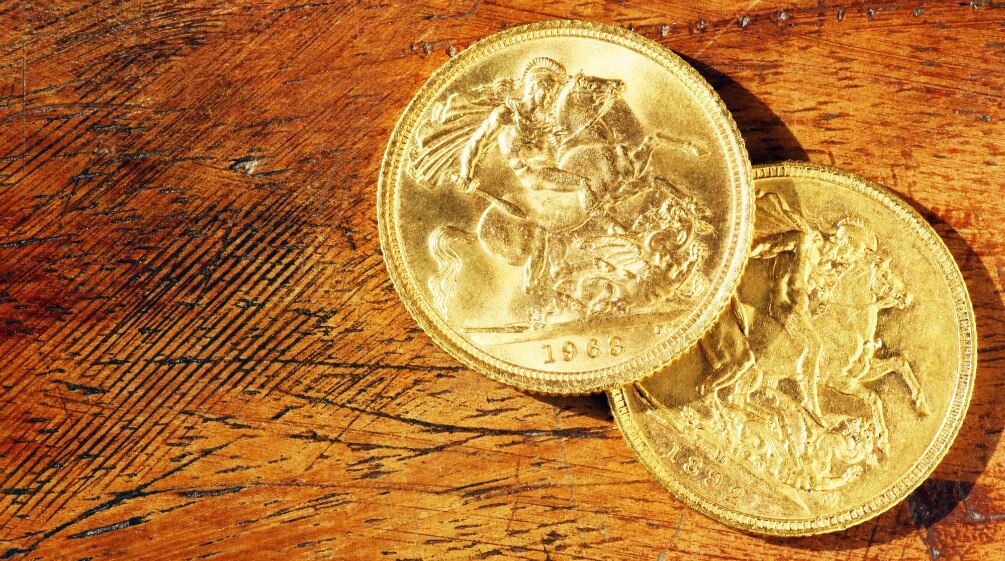 If you are searching for a great gold coin to buy, take a closer look at the British gold sovereign. The sovereign is a term that refers all coins minted from 1817 through the present day with the image of a British king or queen engraved on them. Some of the many rulers who have been featured on these coins include George III, George IV, William IV, Edward VII and others. Notably, the YH shield, the 1989 Anniversary edition, the 2002 Jubilee edition and a few others do not feature a monarch's image on them. While they have a face value of approximately one pound sterling, some older versions of these coins have been sold to investors and collectors for hundreds of thousands of pounds.
The Value of Gold Sovereigns
With this in mind, you may be looking for gold sovereigns to buy that are affordable for your budget but that will sell for a fortune in the future. There are a few factors that will impact the future value of a gold sovereign coin. For example, the number of coins that were minted for the specific version or edition will impact value. Rarity makes the value of any gold or silver coin climb quickly. In addition, how well-preserved older coins are also affects value. For example, coins that are more than a century old and that have no signs of wear may be worth a small fortune.
Where to Buy Gold Sovereigns
A smart idea is to buy gold sovereigns online today and to hold them for many years until they are worth significantly more than they are today. You can then sell your pieces to another investor or collector for a sizable profit. If you want to buy online, you can easily create an account with the Royal Mint and place your order directly from them. However, if you want to know the best place to buy a gold sovereign, you may also look outside of the Royal Mint at some of the authorized dealers or suppliers. These may provide you with a faster and easier shopping experience, and some online dealers may not charge a premium for their services. In addition, many provide you with free shipping.
Preserving the Value of Your Gold Coin Investment
After you learn more about where to make your purchase, you simply need to wait for your order to arrive in the mail. Regardless of whether you have purchased a single sovereign or dozens of pieces or more, you understandably want to keep your gold coin portfolio well-preserved. Many are sold in protective casing, and the best idea is to keep the coins preserved in their original packaging. In addition, store them in a safe deposit box for safe keeping. You may also want to insure your investment so that you do not experience financial loss if they are stolen. Another smart idea is to regularly monitor the value of your coins by keeping a spreadsheet of your coins and estimated values that you update annually.
A sovereign is a welcome addition to any gold coin portfolio, and many investors and collectors alike want to purchase multiple versions of these pieces for their benefit. You may also consider purchasing a sovereign to give as a thoughtful gift to a friend or a relative. As you explore the different types of sovereigns available and their values, ensure that the supplier of your coins is legitimate and reputable. This will help you make a great buying decision when investing in your new gold coins.